Download a complete set of 52 Icon Playing Cards.  These cards are in full color, and you can print them easily with any computer and color printer as they are in PDF format.  It is best to print these on heavy card stock so that they are durable and easy to pick up.
Use these cards to add numbers without counting, and develop cardinality.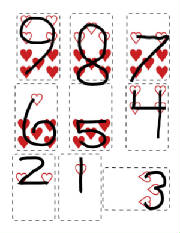 See how easy it is to add 7 + 5 using these cards!  When cards are positioned as shown: with the "x" shaped 5 to the left, students are able to develop one to one correspondance with the place value elements of...
 
...one ten and 2 additional ones: 1 2.